Sandy soil is classified as having grain sizes between that of gravel and silt. It also has a grainy texture to it unlike gravel and silt due to its composition of small eroded rocks. However, because the soil is composed of large particles, it is difficult for water and nutrients to remain in the soil. This can making farming with this soil difficult. The benefits of using Sandy soil is that it is easier to use than other soils and tends to warm more rapidly than other soils in the spring.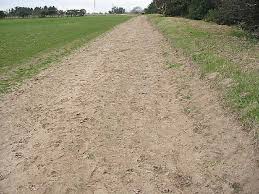 Sandy soil is best for dairy farming, watermelons, peaches and peanuts. It can also be added to soil that has a more clay-like texture to loosen it.in addition, sandy soil is used in concrete, sand boxes for kids to play in, glass, brick and so much more. By mixing the soil with rotted manure or compost, the ability of the soil to retain nutrients is increased. By adding peat, or a similar product, to the soil, it will improve the soil's ability to retain water, but does not help with the soil's ability to retain nutrients. However, when adding compost, manure or peat to the soil, it is important to pay attention to the sodium levels of the soil as they have a tendency to increase the salt content. It is important to watch the sodium levels of soil as too much sodium will kill the plants growing in the soil.
For all of your real estate needs, please contact the Hornburg Real Estate Group at Keller Williams Realty at NTexasLandSearch.com or (817) 476-0924.